Speaking about the mobile phone brands Nokia was the top leading brands for mobile phones. This is one such brand which was preferred by every other person and was actually the most favorite brand. But somehow Nokia wasn't able to accept the changes and lost its importance in the market. there are many such reasons on why Nokia failed where the major points are noted down.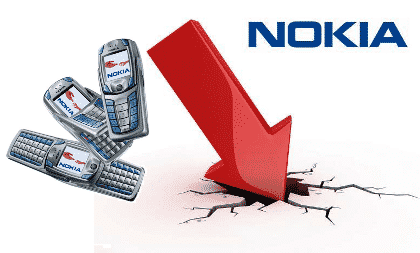 Did not adapt to change
One of the most important reason for Nokia to fail was that it never completely supported or got adapted to change in this market. Nokia was one of the most trusted brands but they really didn't support the idea of smart phones and they continued to manufacture the phones with same old version.
High Competition
High Competition is also one of the main reasons for Nokia to fail in the mobile market. there many other companies who were involved in to manufacturing smart phones and accepted the big change. Some of the tops companies like Apple, Samsung, Blackberry and Nokia offered the same services to the consumers but Nokia did not agree to come with then in improving their technology.
Lack of Innovation
One more reason for why Nokia failed was Lack of Innovation. Nokia was so confident on their decision that they did not concentrate rapid growth and innovation that was going on near them. The research team of Nokia never concentrated and have done a good research on the smart mobile phones because of which other brands came up.
Customer Perceptions
Customer Perceptions was one more thing that pulled Nokia down. We all know Nokia was the top leading company who was in to mobiles with the largest customer base. Being such a big company, they did not give any new and advanced features with technological change which clearly changed the perception of the consumers due to which they lost them.
Lack of Strategic Plans
Lack of Strategic Plans is one more point because of which Nokia got down. Nokia failed to understand the actual game plan for surviving in the market but both its biggest competitors Samsung and Apple got the game plan. They always focused on improving the features and bringing them to the customers.
These are some of the reasons on why Nokia failed was not able to survive in the market. Due to these reasons Nokia is now longer in providing mobile phones.
Thank You!